And we're back. Never in my wildest dreams would I have thought that we'd be back in (almost) the same situation as 2020. This time it isn't in the form of Circuitbreaker, but it's Phase 2: Heightened alert. And that means work from home is back. Sure, working from home does have its perks - here's to waking up later, not having to leave the house to get lunch or dinner and spending more time with our families. 
But it definitely has its cons too. Personally it's when I'm stuck at home while my neighbour is renovating their house. All that hammer knocking is getting to me and hopefully you don't see the effect of that in this blog. 
Thankfully I've got my very own Sonos system at home so it's able to drown out all of that terrible noise and enhance my productivity. But another problem is definitely defeating the temptation of lying in bed all day and watching sitcoms with a tub of ice-cream. (Okay but if you want a list of show recommendations to quench your entertainment needs this season, here you go.) 
Being productive at home can really be a battle in the mind and it definitely calls for a considerable amount of discipline. We're here to help you out. We've gathered a list of audio products that are sure to bring your Home-Office to a whole new level. (Plus, you could totally use these products to enjoy a better home entertainment experience after a long day of meetings - the backache is real after sitting down for so long.)


#1: T5 II True Wireless

Stuck in the middle of really (read: unnecessarily) long, meetings held over video-conferencing? Bless your ears with earpieces that don't just have a great battery life. 
T5 II True Wireless has patented oval-shaped eartips that comfortably stay put in your ears, and the earbuds aren't bulky either.

More than that, T5 II True Wireless is an amazing asset when it comes to handling calls. Here are just some of the functions of these spectacular earpieces:
To Answer a Call - Single press the button on the right earphone
To Refuse a Call - Double press the button on the right earphone
To Mute your Microphone - Double press the button on the left earphone
Want Answer Another Call? - Single press the button on the right earphone
And to Hang Up - While on a call, single press the button on the right earphone to hang up
Send Incoming Call to Voicemail - If you are on a call and another incoming call comes in, you can double press the button on the right earphone to send the incoming call to voicemail
Yeah - we definitely aren't kidding when we say it's one convenient pair of earpieces.
#2: T5M
If you're not as much of a wireless-earpiece-user as you are a wired one, we have a great recommendation for you too! We're pretty sure you've got moments where people can't hear you and you need to repeat yourself, once again making the already-long meeting even longer.
The perfect remedy: Klipsch T5M.

With crystal clear sound like this, it's no wonder What Hi-Fi gave this a 5-star rating. A huge plus point is that if you've got a last minute meeting, you've just got to plug the wire in and you're ready to go.
#3: Sonos One
With a compact design that fits just about any space, the Sonos One is sure to be an asset to your Home Office. It has room-filling sound, so you'll be encapsulated in music that's gonna gear you on to do a greater quantity and quality of work.
And It has Google Assistant and Amazon Alexa built right in, so you can play music, check news, set alarms, get your questions answered, and more, completely hands free. That frees up your time spent googling for answers on your computer! 

More than that, after a long day of work, get ready to immerse yourself in a world of entertainment. When you close your eyes, you surely wouldn't be feeling as though you're trapped in your home, but rather in a whole new world.
#4: Marshall Stanmore II
Bringing you the most versatile speaker in the Marshall line-up. The Marshall Stanmore II is perfect for any room - big or small. And it's built with advanced components that give its signature clean and precise audio, even when you're blasting it to your heart's content. 

You even have a choice when it comes to EQing the sound to what you love to hear - either using the analogue control knobs on the speaker or the Marshall Bluetooth app. Customise your listening experience and control the music you're listening to, however you want to.
Using the app, you can even switch between EQ presets, adjust the intensity of the LED lights on the top panel, wake up your speaker and put it into standby mode - all within a matter of seconds.
Plus, how could you not want to proudly display this speaker in any room? With vintage textured vinyl covering, a salt & pepper fret and the iconic script logo adorning this speaker's sturdy wooden frame, it's surely so much more than a speaker.


#5: Mode EQ
One of the greatest sources of irritation in our lives tends to be from the tangled mess of our earphones that seek to be the great barrier between us and the music we yearn to hear (or even our meeting that's happening in like, 2 minutes.)
Well, say hello to the Marshall Mode EQ's rubber coated tangle resistant cord and say goodbye to untangling earphones.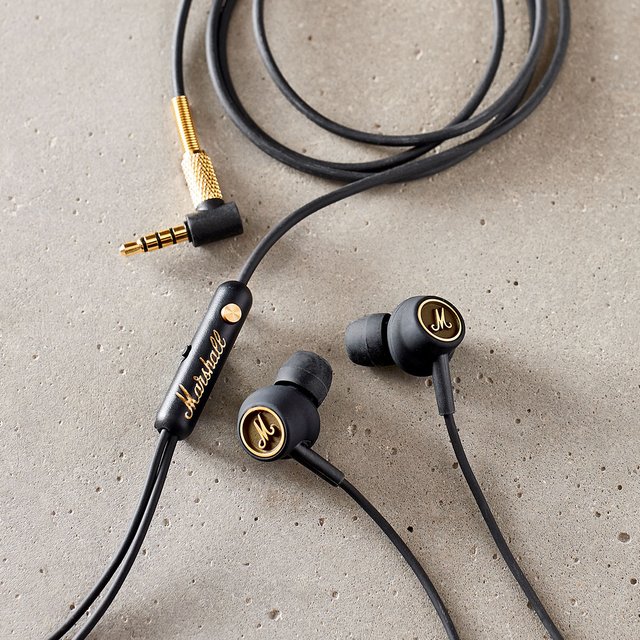 Mode's compact design and maximum sound output might just make them the best in-ears on the planet. Mode may have a tiny frame, but it has customised drivers that have been fitted in, to produce a well-balanced audio that boast a clear midrange, extended highs and deep bass.
Loved the recommendations?
Head over to our webstore to check out our full range of WFH bestsellers.
We hope this helps. Stay healthy and stay productive, folks!