It feels like we just turned back time. We're back to having our homes as our number one haven. Be it for work, relaxation, or the gym, we're going to be staying within these four walls for awhile. So why not spruce it up a little?
We bring to you some audio product recommendations that are absolute fan favourites. Find the perfect product to make your home audio experience come up to the next level – no matter which room you're in.
#1: Sonos Arc – The Fan-favourite Smart Soundbar
Miss going to the cinema as a family? Experience a new dimension of home theatre in the comfort of your Living Room with the Sonos Arc. With Dolby Atmos enhancing the surround sound effect, both you and your family would be completely immersed in your show, as though you're really there!
(P.S., if you need any movie recommendations, we've got your back too.)
Hear what our customers have to say about the Arc:

#2: Klipsch The Fives – Powered Speakers for Easy Listening
Another great option for your Living Room would be the Klipsch Fives. They provide an alternative to a traditional TV sound bar with the same easy plug-and-play setup.
Bonus: Add on the Sonos Port to connect your Klipsch The Fives to your Sonos home theatre system! So if you love the sound of Klipsch but also the convenience of Sonos, you can now have the best of both worlds!
Hear about it yourself from a fan of these speakers! (He means Klipsch The Fives)

#3: Sonos One – The all-in-one smart speaker
#3: Sonos One – The all-in-one smart speaker
Maybe what you're looking for is a companion in the Kitchen. Look no further - the Sonos One would be your perfect bet. With Google Assistant and Amazon Alexa built in, you can control it hands free!
So switch up the beat, check out the weather or set reminders even when you're chopping onions.
The Sonos One is truly a fan favourite:

#4: Sonos One SL – The all-in-one smart speaker (without a microphone)
Since most of us are going to be working from our Home Offices, we've going to tell you a secret something that's sure to make you more productive - music!
Use the Sonos One SL to listen to music or the radio to motivate yourself while you're working - maybe just don't play it during your zoom meetings while your boss is talking.
Easy setup, amazing sound - this is what our customers love about the Sonos One SL:

#5: Marshall Stanmore II – Bring the Big Stage Sound Home
You could also opt to enhance your Home Office music experience with the Marshall Stanmore II.
It not only has a high-performance sound that is synonymous with the Marshall name, it has a customisable sound! Fine-tune your music with the Marshall Bluetooth app or the analogue controls on its top panel.
This is what one of our customers has to say about the Stanmore II:

#6: Sonos Roam – The versatile and portable smart speaker
This circuibreaker, may your Home Gym call out to you as much as your fridge does - whether it's a simple yoga mat or a treadmill. And just like how music increases your productivity, it'll definitely ease the inertia when it comes to exercise.
We recommend the Sonos Roam, a mighty portable speaker that's going to be a great exercise buddy for you. With its Sound swap feature, you can seamlessly transfer music around your house to another room when you're done gymming.
Check out one of our reviews about the Sonos Roam:

#7: Marshall Emberton – Crowd-Favourite Portable Speaker to Rock Out To
Maybe you're going for more pool-side activities, or you're just afraid of spoiling your speaker with the sweat from your hands after a good workout at your Home Gym.
The Marshall Emberton is a water-resistant portable speaker - so you don't need to worry about it malfunctioning no matter how much sweat gets on it.
The Emberton is amazing - hear it from our customers themselves: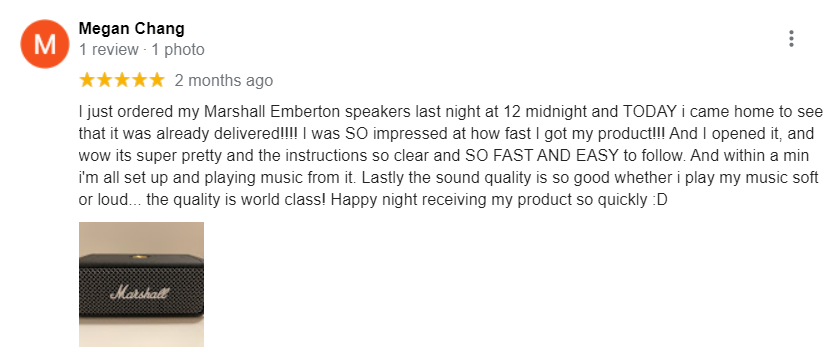 We've got you!
We hope that these audio recommendations do help you spice up your home audio experience. Experience a whole new world of sound!
TC is committed to providing you with the best products for your home. And now that we're back to working from home, we want to assure you that TC will always be here for you.
Head over to our 'Work From home' collection page to check out all the products that were mentioned above!