One of the most dreadful feelings is when you're on the train, peek into your bag and realise - you didn't bring your earphones. Now you're stuck on a 30 minute train ride with no music, just trying to make it seem as though you aren't staring at the person sitting right opposite you.
So it could be concluded that earphones are a big part of our lives. And now the question arises - should you choose wired earphones or wireless ones? We're here to tell you that it's all a matter of lifestyle.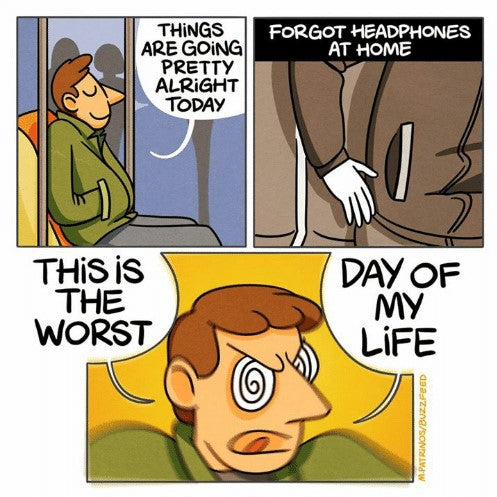 Wired earphones
Pros
Well, wired earphones are definitely convenient in the aspect that there isn't a need to charge them because they don't have batteries.
You also don't need the extra step of connecting them to your device via bluetooth. So they're always ready to go!
Just plug them into your computer and you're ready to answer a work call in 5 seconds, stat.
To all of our audiophiles, you're sure to love wired earphones too. If you use audio files rather than lossless audio, you'd know that the analog signal with wired earphones have a better sound quality compared to when you use bluetooth!
But if you're a casual listener, don't worry! Most of us use lossless audio like Spotify to listen to music or podcasts, so there isn't much of a difference in sound quality.
Cons
The biggest con is definitely the cable. Though it usually does mean a better quality microphone, if you don't like the restriction of the cable, perhaps wired earphones aren't the best choice for you.
Our recommendations
- Klipsch T5M
- Marshall Mode EQ
Wireless earphones
Pros
One great thing about wireless earphones is the freedom! You're not tied up to your device anymore. So when you're vacuuming the house, you don't necessarily need to find sweatpants that have pockets to fit your phone in.
Also, some earphones like the Klipsch T5 II True Wireless Earphones can connect to your virtual assistant of choice. Say goodbye to googling with a bunch of typos. The T5 II True Wireless Earphones also have four microphones so anyone can hear you crystal-clear, whether it's your voice assistant or your boss on a conference call.
Some wireless earphones like Marshall's Mode II also boast sweat and water resistance! So you don't need to worry about your earphones spoiling every time you go for a run
Cons
The biggest con is definitely charging. But if you think about it, almost everything requires charging these days! And it definitely helps that many earphones come with charging cases.
Our recommendations
- Klipsch T5 II TrueWireless
- Marshall Mode II
The best of two worlds
Still can't choose? If indecisiveness has gotten the best of you, we have a great recommendation too. The Marshall Major IV is a headphone that has both Bluetooth connectivity and it comes with a cable too - so on days when you feel like plugging it into your device without a Bluetooth connection, it's the perfect choice. Versatile and with 80h of battery life, it's a durable, long-lasting headphone that's super convenient too.
Finding out more?
If you'd want to know more about True Wireless earphones and what it means exactly, head over to this blog post here!