The average Singaporean apartment home may not be big, but that shouldn't stop you from building your dream home cinema. Thankfully home audiovisual equipment has evolved since the early days of component stereos. Here are 3 questions to consider before you can have your own immersive "All Around You" experience.
QUESTION 1: How many people do you want to host?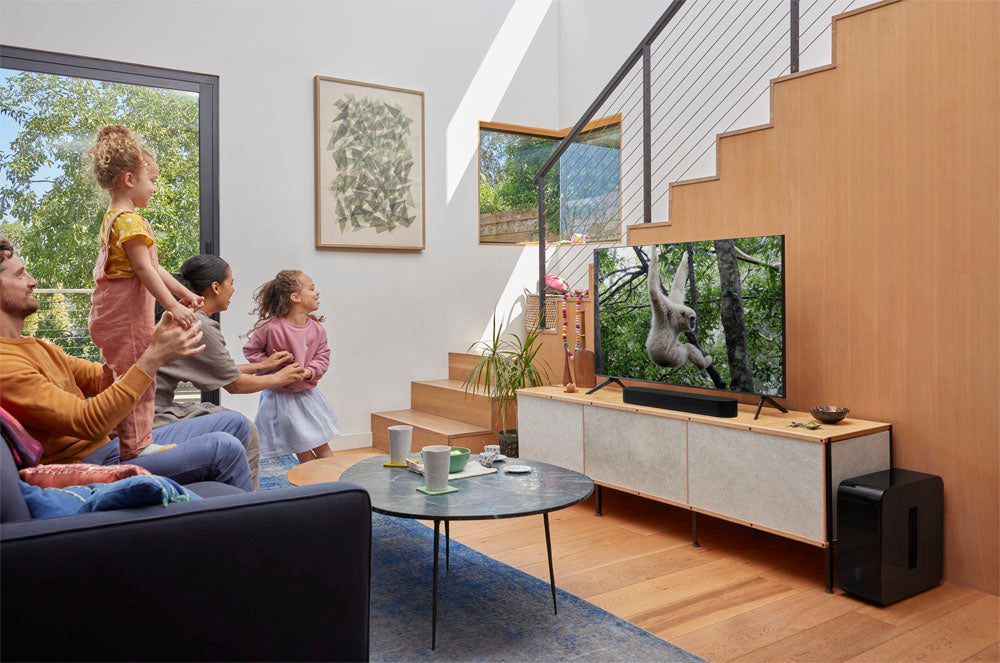 First, determine if you are going to have friends or family over for movie night, or are you and your significant other the only ones watching the majority of the time.
If it's just 2 pax for the majority of the time, you may want to consider investing in two comfortable seats you can sink into.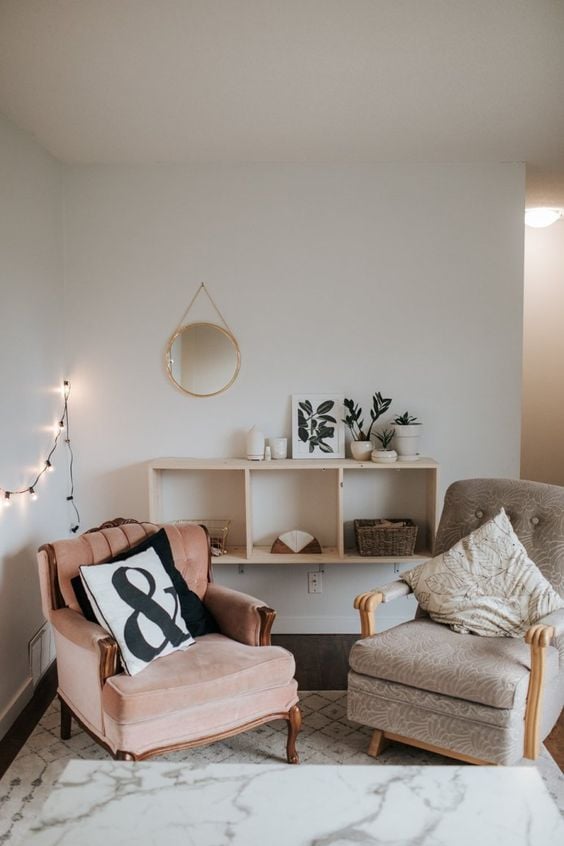 For bigger groups, you may want to consider a suitable couch layout design or free seating arrangement for your space.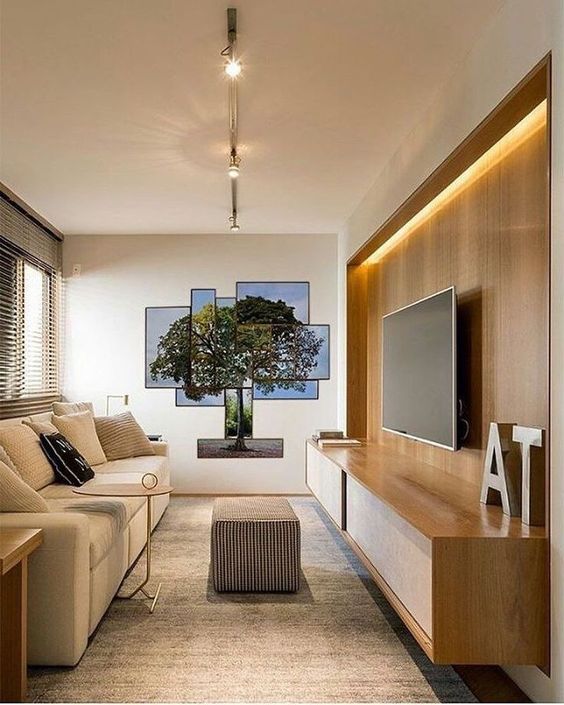 Note: One simple way to find out the maximum and minimum distance between the seats and your home theater screen is to multiply the horizontal length of the screen by 2.
For further information about the ideal seating distance for a small home theater system, check out this guide on calculating the screen size and seating distance for your home theater.
QUESTION 2: How immersive do you want it to sound?
Sound is what will make or break your home cinema experience. Without a proper sound system, you won't be able to feel your movies.
Understand going into this that you get what you pay for when it comes to sound quality and, for most people, you're going to want to spend a little more to achieve a quality home theater sound. That being said, it doesn't take a lot of sound to fill a small room.
Generally, if you're going to go through the effort of building a home theater you'll want to use either a 5.1 or 7.1 channel surround system.
5.1 Surround Sound
A 5.1 surround sound system leverages 6 different speakers to create an atmosphere of surround sound. This is composed of a front left, front right, rear left, rear right, front center channel speaker and subwoofer.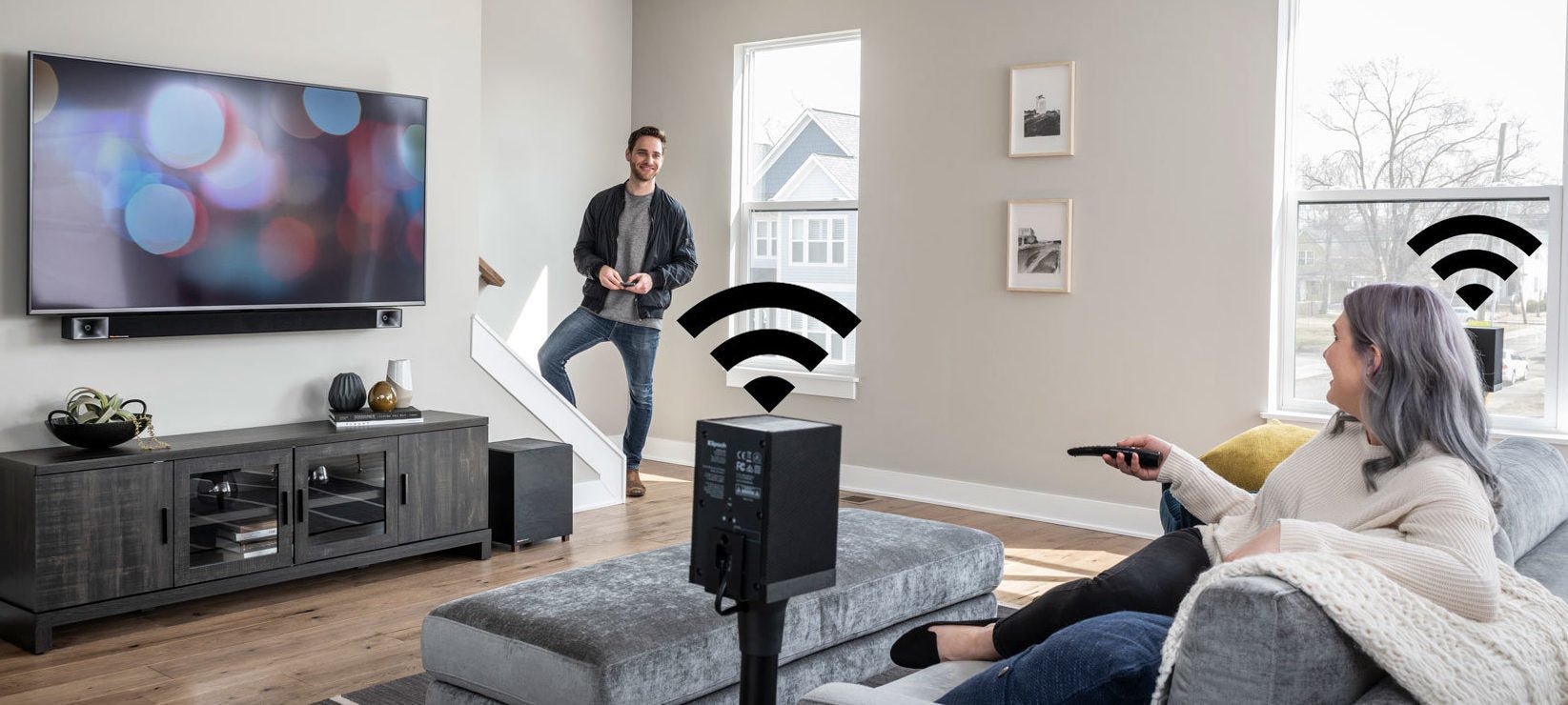 Klipsch Home Theater 5.1 Setup ( 3.0 Soundbar + 2.0 Surround speakers + 0.1 Subwoofer = 5.1 Surround Sound)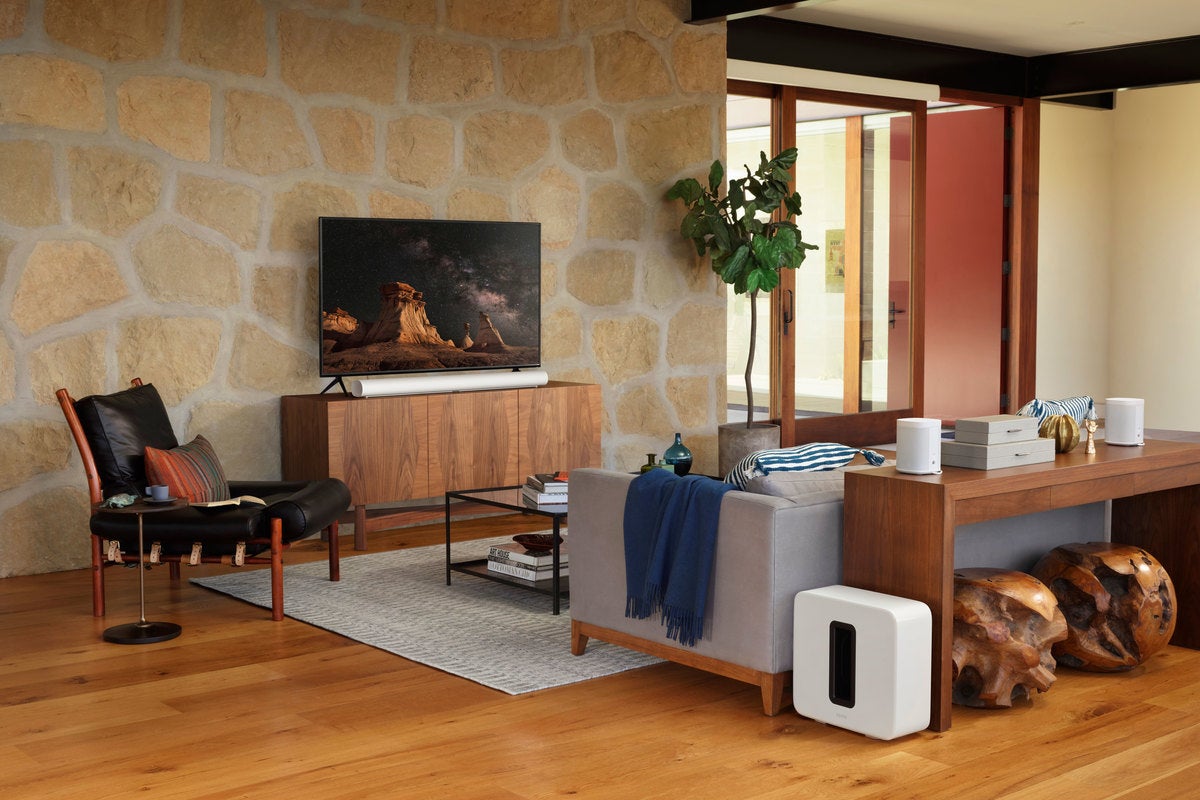 Sonos 5.1 Setup with Arc (Arc Soundbar + Sub + 2 One SL)
7.1 Surround Sound
Similarly, 7.1 surround sound systems leverage 8 channels in total with two extra speakers improving the audio quality of the home theater system. For a better understanding of both these surround sound systems, you can refer to this link.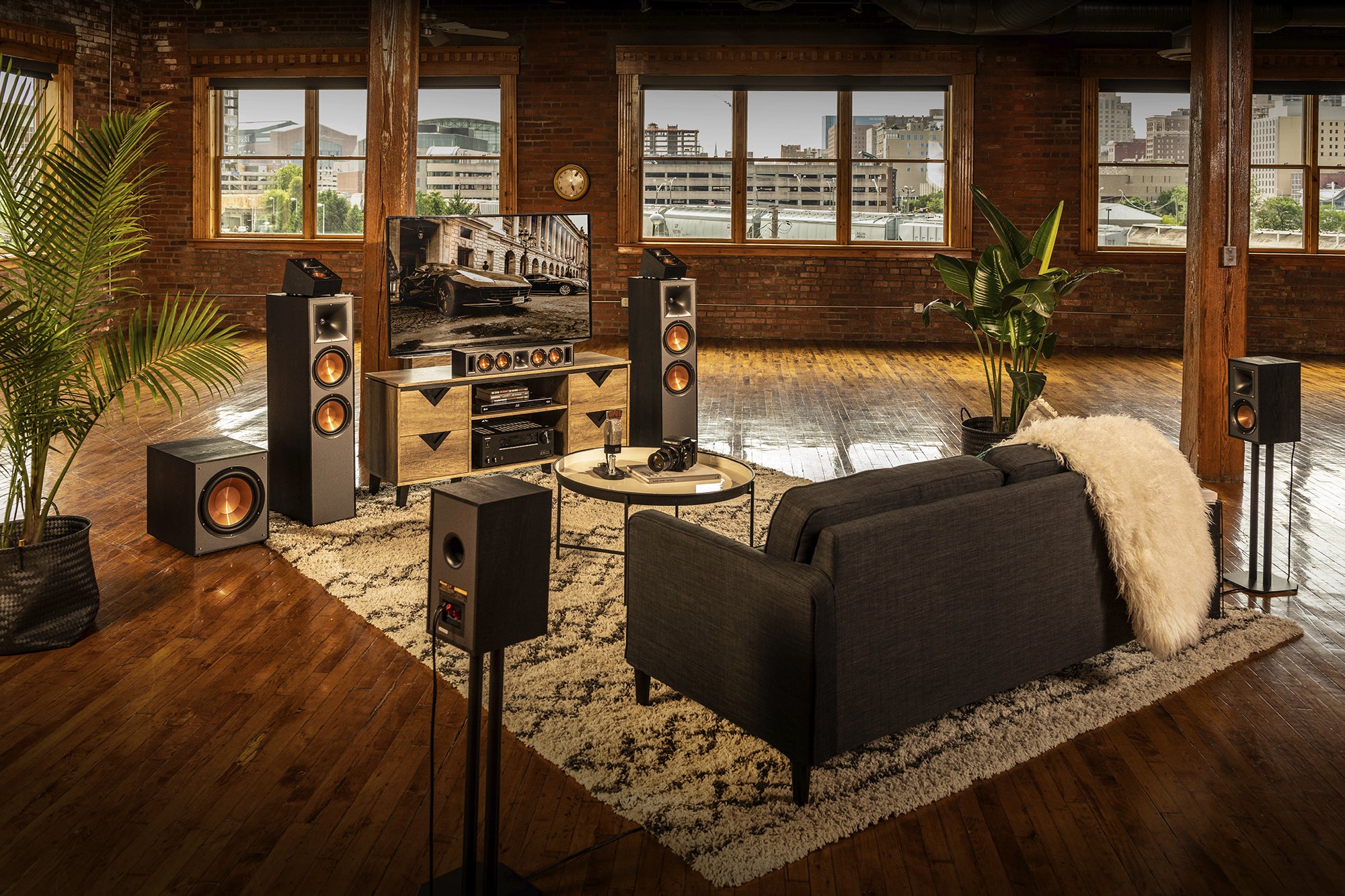 Klipsch 7.1 Home Theater Setup.
Some homeowners are running on a budget while making a home theater and may choose a 3.1 soundbar setup. Although a 3.1 system is not surround sound, it can deliver the desired results for many users without straining your pocket too much. Again, this is a small room so it should still fill your theater decently. Let me be clear in saying that many people will be plenty happy with a quality 3.1 sound setup.
Compared to other budget-friendly options a 3.1 channel soundbar gives greater value for money. You will enjoy better sound clarity with dialogue, since the system delivers a dialogue from its center channel speaker, ending in a more crisp and clear result. Along with the central speaker, there are left and right speakers supported with an external subwoofer, taking its tally to four speakers in total.
For a budget home theater setup, you might want to consider:
QUESTION 3: Flat screen TV or Projection?
While it's natural to go for the options giving us the best picture quality, there are also other factors at play here. Projector screens are much more cost-efficient than flat screens provided by TVs.
A large projection screen bought with a budget-friendly projector is significantly cheaper than a large screen TV, especially if you want large screen options. You would need to spend much more buying an 80 inch flat-screen TV, while a 100″ projection screen can cost much less.
However, there are also some restrictions on projection screens. Typically, the best place to set up a projected screen is a room where there are no windows to disrupt the lighting of the room – ideally a basement or inner room of your house.
That said, a flat-screen TV has a considerable edge over projection screens in terms of picture quality. To understand the topic further, you can check out the detailed comparison listed by Digital Trends.
Flat Screen Televisions
4K technology allows users to watch videos and TV in ultra-high-definition. This technology can show contrasting patterns in finer detail rendering hair, feathers, shadows, or other natural in perfect clarity.
Similarly, thanks to enhanced screen resolution, 4K allows users to position themselves closer to a large screen compared to 1080P TVs. This makes it possible for users to sit twice as close to the TV and still render an optimal experience.
If price is an issue, you can always scale the size of the television for better quality. Consider browsing this link to find the most optimal 4k ultra-UD TV for your home theater.
Projectors
A projector is the best option if you're creating a home theater with a large screen under a budget. While this is cheaper to start with, you can get a great quality picture with a better projector. Which ever projector you decide to go with, there are some things to think about.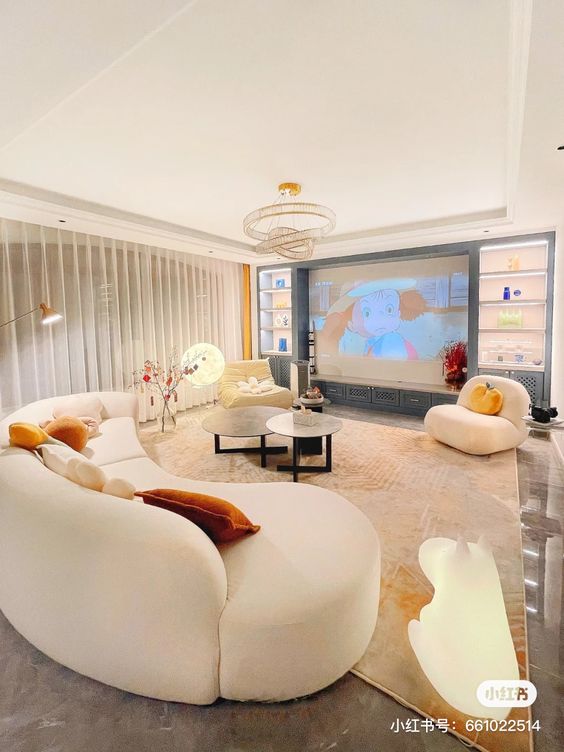 What is the Room Lighting like?
As discussed before, lighting is crucial for installing a home theater system with a projection screen. It's important to select a room that is not too bright.
While most projectors of the past had bad quality under a bright environment, modern projectors have more powerful projections to cope with this problem. You can also explore a number of window treatments to help combat daylight.
Regardless, you should always pick a room where lighting is minimum to enjoy the best cinema experience.
How is the Wall Space for the Screen?
Another important factor for projector screens is the size of the wall in our room. Your wall needs to be of the perfect size so the screen can be adjusted properly. You may choose to mount either a manual, motorized drop-down or a fixed screen .
What is throw distance?
To select the right projector, you must choose the optimal throw distance. The throw distance is the space measured from the screen to the lens of the projector. The optimal distance should be listed on the product description. You might also find this throw distance calculator helpful for many models.
Save on your Home Theatre Setup with Sonos Group Buy!
Making a home theater should be well thought out and carefully planned. There are options for any budget and the fruits of your labor can be well worth it.
Save on your dream Sonos Home Theatre setup by joining our Group Buy.
Hopefully, this article provides you with the needed information to jump-start your search for the perfect home theater system and enjoy the cinematic experience you always wanted.