Everything we make is intentionally designed to be easy to set up, control, and enjoy. But the Sonos experience can be as rich and multilayered as you'd like. To make sure you're getting the most out of your Sonos products, we present the 'Essential Guide' series.
When we set out to create our second portable speaker, there was only one thing we didn't want you to do with it: leave it in your bag or a drawer. That meant we had to ensure that the experience was as impressive on the go as we knew it would be at home. The result, Sonos Roam, is our most versatile speaker yet.
Start Here
Whether you're brand new to Sonos or a long-time owner, the 'Essential Guide' series is for you. If Roam is your first Sonos speaker, start from the beginning. We'll take you through the entire Sonos journey step by step, from setting up Roam to some of the more advanced features possible when you group Roam with other Sonos speakers. If you're a long-time owner, feel free to look around. Hopefully you'll learn something new about Roam or rediscover features you haven't used in awhile. Ready? Let's get into it.
Set Up
Once you get a hold of Roam, the first thing you'll need to do is set it up. If you've already started your system, then you know how easy this is. With Roam, we've made it even easier.
The Sonos app automatically detects Roam and connects to WiFi in seconds. Just make sure Roam is turned on (by pressing the power button on the back of the speaker) or plugged in to power via the USB cable, and that you've downloaded the Sonos S2 app for iOS or Android. The app will walk you through a couple steps and in a matter of minutes, you'll be ready to play.
A Note on Packaging
With Roam, we've created a groundbreaking packaging system that sets a new standard for our environmental sustainability. We removed single-use plastics from Roam's box, document envelope, tear strips, and labels; developed a sustainably-sourced custom kraft paper; and replaced all internal components with paper pulp. According to Michelle Enright, Head of Packaging Experience, "We wanted the unboxing to feel like it's your birthday." (We'll share more about the breakthroughs we made with Roam's packaging—and about our continuing commitment to sustainability—soon)
Placing Roam
Roam can be placed horizontally or vertically. When vertical, it has the smallest footprint of any of our speakers—less than 2.5 inches at its widest. And the shallow depth of Roam's charging cable allows it to be placed as close as possible to a wall or in a corner.
Horizontally, Roam is designed for stability, even on uneven surfaces like grass or sand. Plus, the volume buttons are strategically placed to make sure that turning the volume up and down is intuitive, regardless of how it's oriented.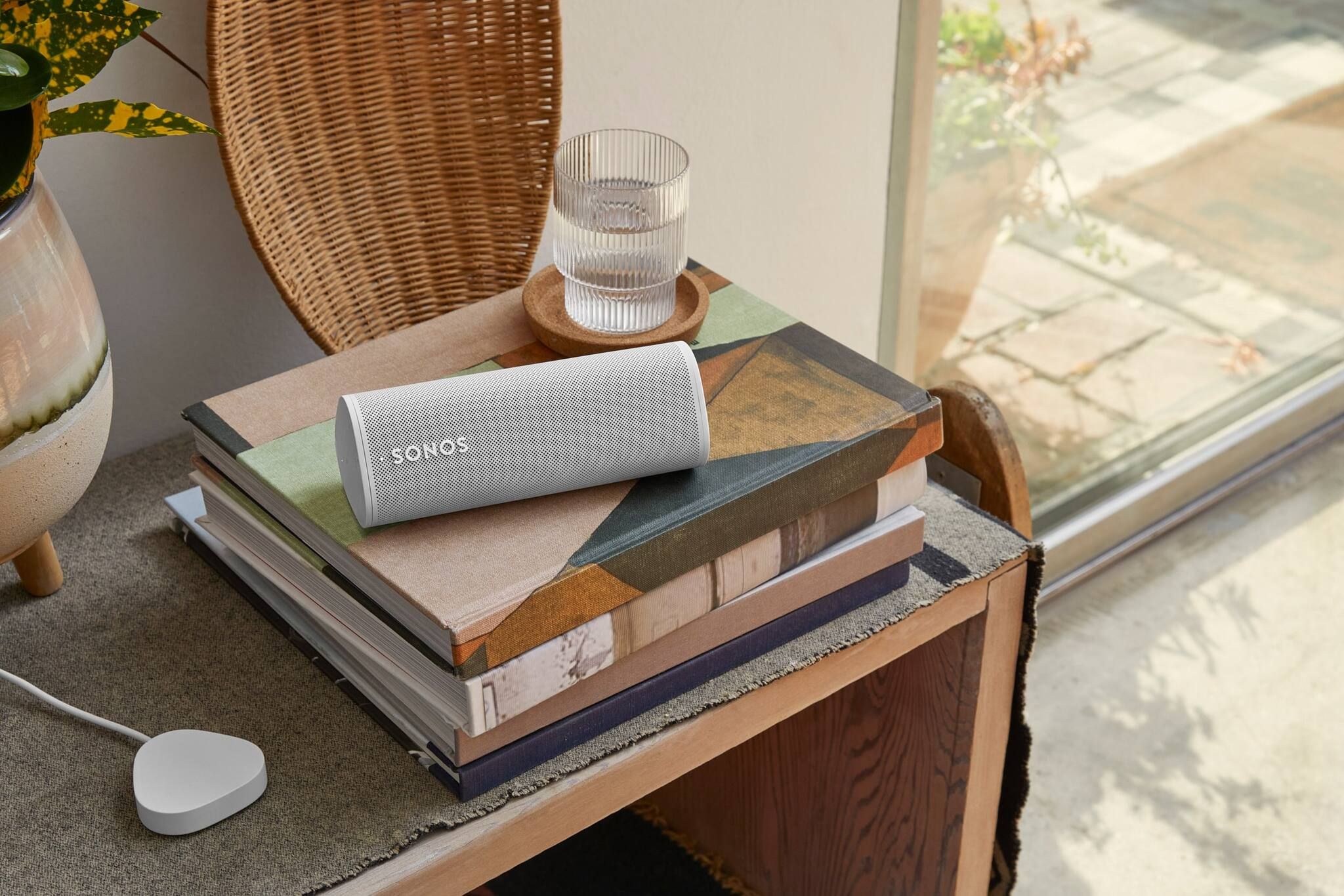 The Sonos App
The Sonos app is like having a control panel for your speaker (and your entire system) in the palm of your hand. Once you've learned a few simple icons, you'll be able to navigate through the app easily. Find a complete tutorial on using the app here.
Below are a few of our most popular features that will help you quickly find your favorites or discover something new.
My Sonos
Even with millions of songs, albums, books, and podcasts at our fingertips, we often find ourselves going back to those handful of favorites over and over again. Save them to "My Sonos" as you explore and then just tap the star icon in the toolbar at the bottom of your screen to quickly access all the content you love.
Search
Tap the magnifying glass icon in the toolbar to search by artist, song, album, playlist, station, genre, composer, and more.
Browse
When you're not sure exactly what you want to listen to, tap the music note icon at the bottom of the screen, and let Sonos Radio or your favorite music service lead you down a path of music discovery.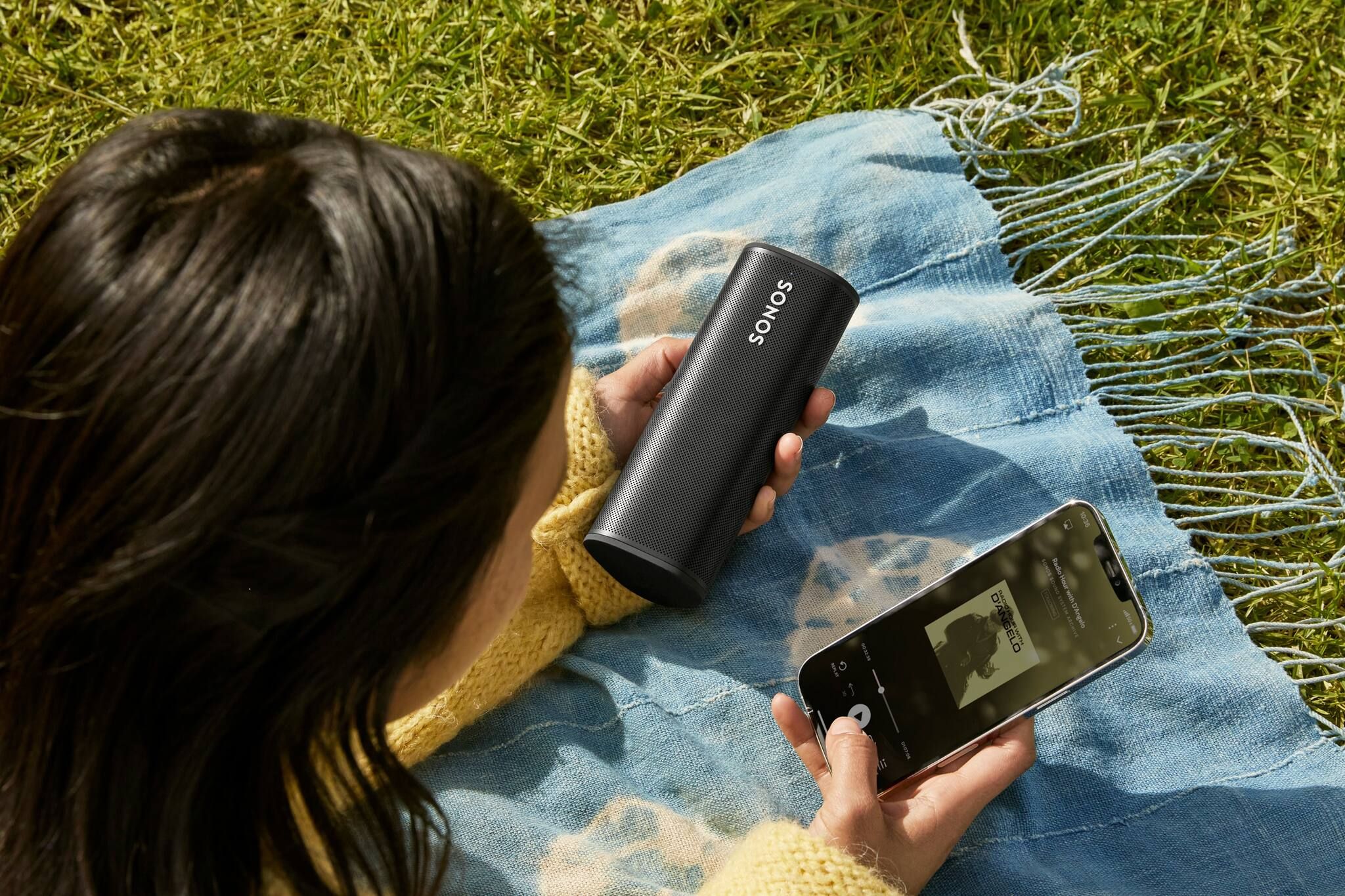 A Note on Sonos Radio
Sonos Radio is our free radio service for all Sonos owners. Access thousands of radio stations from around the world, listen to curated genre stations, discover new music, and enjoy original content free from the Sonos app. Tune in to Sonos Sound System, our signature station, to learn stories behind the music, find new artists, and hear the latest releases. Or check out exclusive stations curated by music icons including Thom Yorke, Brittany Howard, and Third Man Records. Follow @sonosradio on Instagram for the latest, including fascinating deep dives into radio culture.
And if you want to listen in high-definition, ad-free, and with access to even more original content, including stations curated by Ghostface Killah, Björk, FKA twigs, and Blacksmith Radio, check out Sonos Radio HD.
Touch Controls (Including a New Feature!)
The Sonos system was designed to be flexible and adjust to the way you listen—not the other way around. And as omnipresent as phones are in our lives, sometimes it's really nice to put them down and forget about them. But that shouldn't mean the music has to stop too.
All of our speakers have touch controls that allow you to control your system without the use of the app. Here is a quick primer on how to control Roam using just the buttons:
Play/Pause
Press once to play or pause content.
Press twice to skip a track.
Press three times to replay the last track.
Press and hold to group Sonos speakers around your home.
Press and continue holding to use Sound Swap, a brand new feature on Sonos. With Sound Swap, you can send sound to and from your nearest Sonos speaker. (Think of it as if sound were a ball. You can throw the ball to a friend. Or, if they already have the ball, ask them to throw it to you.)
Volume
Press the + button to turn the volume up.
Press the - button to turn the volume down.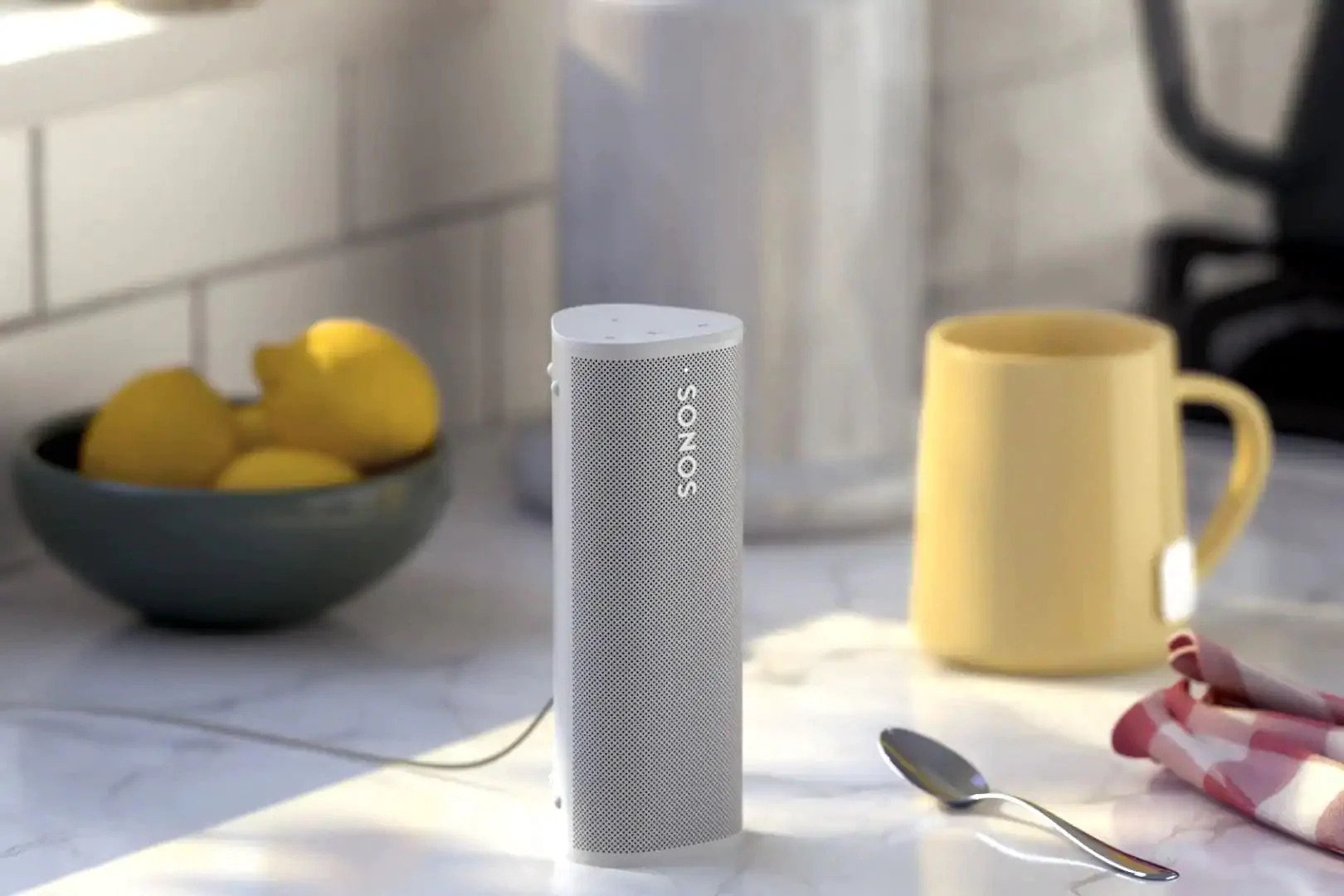 Bluetooth, Direct Control, and AirPlay 2
You know those moments when you're listening to a song or watching a video on your phone and you realize that you want to hear it with great sound...immediately? Bluetooth allows you to stream whatever is playing on your phone out loud on a nearby speaker. Although Bluetooth is incredibly convenient when you're on the go, in general, it's best to be connected via WiFi when you're at home. Roam can automatically switch between the two, prioritizing WiFi when you're within range of your home network.
But occasionally, there is content on your phone that cannot be played on your Sonos system via WiFi. Until now. Roam unlocks Bluetooth audio for your entire system. Just group Roam with other speakers and start streaming to Roam via Bluetooth. The sound will play on all of the grouped speakers.
Partial to a particular app? If you want to stream to Sonos without leaving your favorite app, you have some options.
Spotify, Audible, Amazon Music, Pandora, and other services all let you control Sonos directly through their app. Just look for the button that allows you to play to an external speaker.
And if you have an iOS device, including iPhone and iPad, or a Mac, you can play sounds from your favorite apps out loud on Sonos via AirPlay 2. It all sounds better on Sonos.
Voice Control
When you want to set a timer, turn up the volume, or know how many cups are in a quart, voice control is the quickest, easiest route. Especially if your hands are covered in dough.
When on WiFi, Roam allows you to use either Amazon Alexa or Google Assistant to control your Sonos system. The light on top of Roam signals that the microphones are on and that your voice assistant is ready to respond.
Not into voice assistants? The microphone light is hard-wired, meaning that when you press the microphone button and the light goes off, you can be certain that the microphone is off.
Automatic Trueplay™
Roam is small. Its sound is not. That's because we engineered it from the ground up to deliver astonishingly rich sound from its small form. Its custom designed racetrack woofer maximizes low-end output, while the high-efficiency neodymium motor increases power.
With sound, so much depends on the environment in which you're listening. If you're listening in a cozy room with thick carpet and tons of pillows, it's going to sound a lot different than if you're listening in a wide-open grassy field. Our auto Trueplay technology dynamically adapts the sound for each unique environment. This ensures that Roam sounds great no matter where you're listening.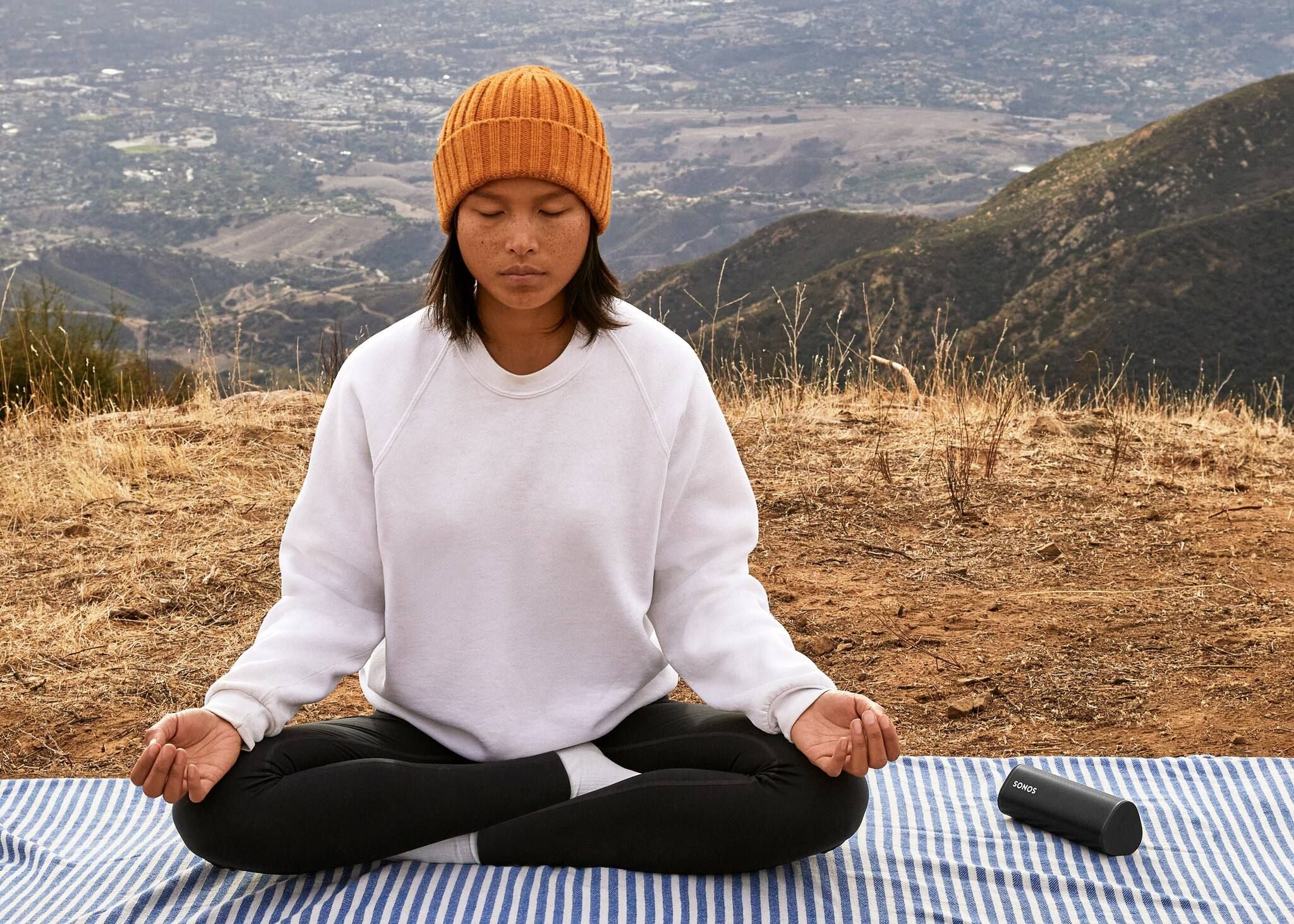 Stereo Pairing
Stereo pairing is one of those terms that can sound really complicated and techy, but in reality, it's just awesome. Here's the basic idea: a lot of music is recorded with two "channels"—left and right. So let's say a song is mixed with more guitar in the left channel and more bass in the right channel. When you listen to that song through a single speaker, the two channels are combined. You can still hear both the guitar and the bass, but with a bit less detail that you would if they had been kept separate.
But when you play that same song through two stereo paired speakers (while on WiFi), you give it space and breadth. Ultimately, this allows you to appreciate the song with all the richness and nuance from when it was originally recorded.
Charging Roam
Roam comes with a USB-C charger that fits snugly against the back of the speaker, whether vertical or horizontal. Or you can simply drop it on any Qi-compatible charger.
Roam can continuously play for up to 10 hours on a single charge. To save power, it falls asleep when not in use. And when you're ready to go again, Roam wakes up in less than a second with the press of a button.
The Sonos Roam Wireless Charger, a custom-designed charging accessory for Roam, perfectly extends the speaker's form, enabling charging without increasing footprint.
All charged up? Good, let's go outside.
Roam Beyond the Home
Smaller than most water bottles and weighing less than a pound (430 grams), there aren't many reasons not to bring Roam with you when you leave the house. Throw it in a carry on bag, stash it in a cup holder, or tuck it into a jacket pocket for great sound whenever you need it.
Roam's concave end-caps serve three functions—preventing accidental button presses, providing a stable base when stood vertically, and increasing drop resistance. When in doubt, bring Roam.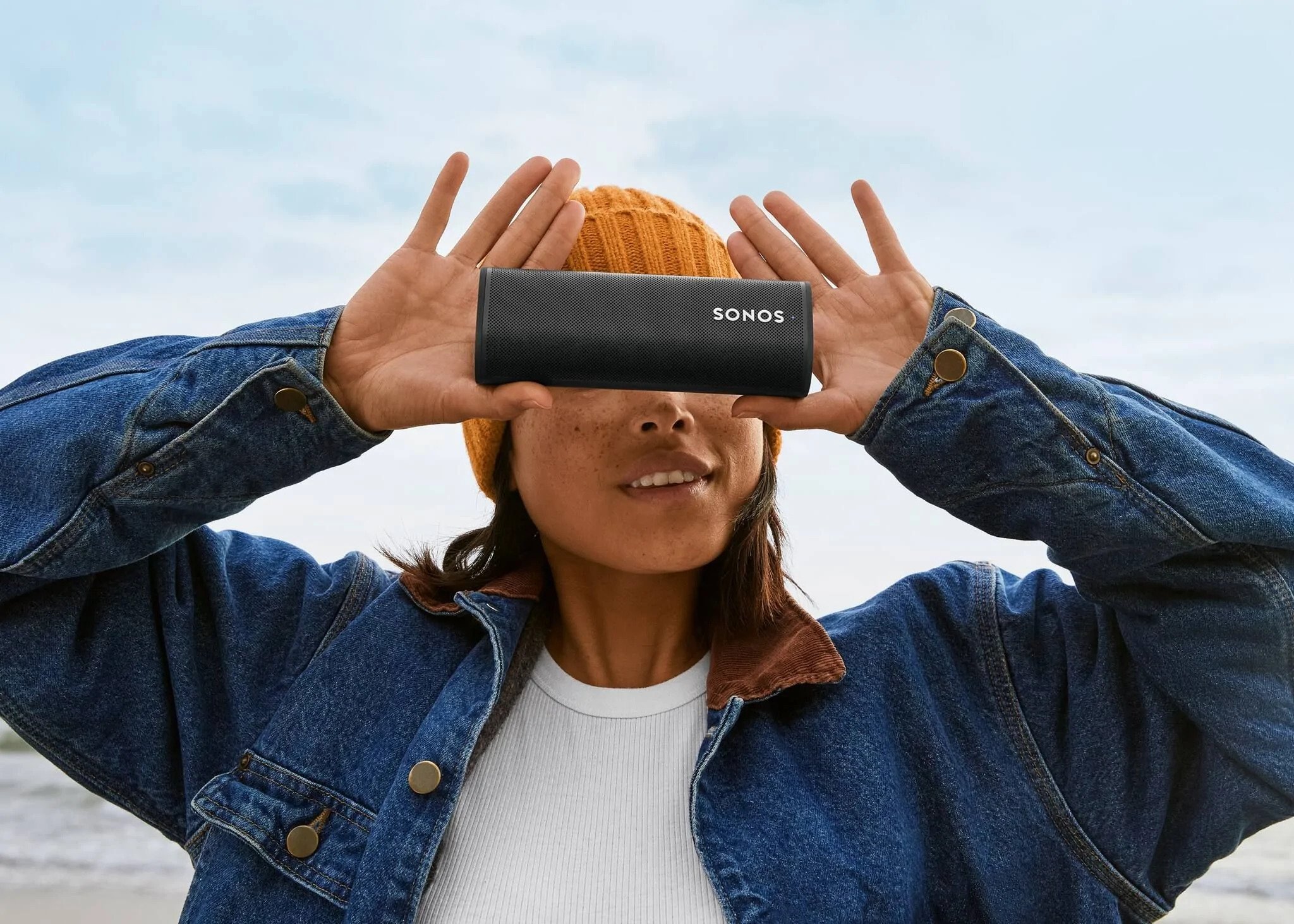 Waterproof and Dustproof
With an IP67 rating, Roam is fully dustproof and waterproof, meaning that it can be submerged in one meter of water for up to 30 minutes. (And with tactile buttons, it's easy to know which one to press—even when it's wet.)
Leaky water bottles. Dusty trails. Unexpected dip in the pool. Roam plays on.
For advice on cleaning Sonos products, click here.
Roam and the Sonos System
Sonos pioneered the multiroom listening experience with a simple vision: Help music lovers play any song anywhere in their homes.
But how we live in our homes is ever-changing. Sometimes we continuously flow from room to room, crossing paths with partners, family, and housemates. At times like these, sound is a shared experience. But there are also times when we camp out in separate areas of the house, happy to stay put and have our individual experiences. With multiple speakers, the Sonos system adjusts to the unique ways we live in our homes.
Whether Roam is your first Sonos speaker or your tenth, the Sonos system can adapt to the way you listen in your home and beyond. If you want to explore how to expand your system, visit sonos.com for more information on home theater setups, architectural speakers, and more.
At Sonos, we've spent many years perfecting the home audio experience. With the release of Move in 2019, we stepped outside the home for the first time. With the launch of Roam, we're excited to open up a new world of listening possibilities. We hope that Roam inspires you to get out in the world. Bring Roam and take a new path. Bring Roam and discover a hidden gem in your city. Bring Roam and see the world anew.
For a more thorough comparison between Roam and Move, read this blog post.
Need some ideas on where to take Roam? Check out this blog post.
Blog post adapted from Sonos.com.